What is the Sacred Heart of Jesus?
The month of June is dedicated to the Sacred Heart of Jesus! Every year we celebrate the solemnity on the eighth day of the Feast of Corpus Christi, 19 days days after Pentecost. This year it falls on June 24th! 
The Devotion to the wounded heart of Jesus dates back to the 11th century. Christians would meditate on Christ's passion and suffering and offer prayers to the Sacred Heart. However it wasn't until 1673, when Jesus began to visit Saint Margaret Mary Alacoque, that we would learn more about this amazing devotion. During these visions, Jesus shared with St. Margaret Mary about His immense love for mankind and asked her to spread this message. The image if of Christ's heart surrounded in a crown of thorns to illustrate the immense suffering He endured for us and continues to endure due to man's ingratitude. The flames symbolize his immense love for us, and the cross is to remind us of his death. He asked that His heart be venerated and adored as a visible display of Christ's love and mercy. 
Jesus is showing us that His heart is on fire with love for us. He wants everyone to know how much He loves each and every one of us, and the image is the perfect reminder of this enormous love.  
Sacred Heart of Jesus with gold frame linked here. 
Five Ways to Grow Closer to the Sacred Heart of Jesus
Get an image of the Sacred Heart of Jesus. I have multiple  because I absolutely love this picture of Jesus.  Look in thrift stores! I have had great luck finding them at garage sales and thrift stores! God will always provide if we pray about it. 
 Enthrone your house. I got this idea from Emily Jaminet in her book, Secrets to the Sacred Heart.  It is an easy read and chock-full of great stuff to include stories and testimonies, consecration to Jesus, and the promises given to St. Margaret Mary. The idea behind enthroning your house is that you are inviting Jesus into your home and essentially giving Him the "throne" of your house.  It would be super fun to do this on the actual feast day!  Make it a great celebration!
First Friday Devotion to learn how click here. 
Consecrate yourself daily to the Sacred Heart of Jesus.
 Pray the Litany of the Sacred Heart of Jesus
One of the ways in which Jesus asks us to adore His heart is by participating in the First Friday Devotion.  This devotion is simple. Receive Holy Communion (and Confession when necessary) on the first Friday of every month for 9 consecutive months. Just like the First Saturdays devotion, it is an amazing devotion to do with your family. What better time to start than in June, the month of the Sacred Heart!
Jesus gave St. Margaret Mary these 12 promises to those who participate in the First Friday Devotion:
I will give them all the graces necessary in their state of life.

I will establish peace in their homes.

I will comfort them in all their afflictions.

I will be their secure refuge during life, and above all, in death.

I will bestow abundant blessings upon all their undertakings.

Sinners will find in my Heart the source and infinite ocean of mercy.

Lukewarm souls shall become fervent.

Fervent souls shall quickly mount to high perfection.

I will bless every place in which an image of my Heart is exposed and honored.

I will give to priests the gift of touching the most hardened hearts.

Those who shall promote this devotion shall have their names written in my Heart.

I promise you in the excessive mercy of my Heart that my all-powerful love will grant to all those who receive Holy Communion on the First Fridays in nine consecutive months the grace of final perseverance; they shall not die in my disgrace, nor without receiving their sacraments. My divine Heart shall be their safe refuge in this last moment.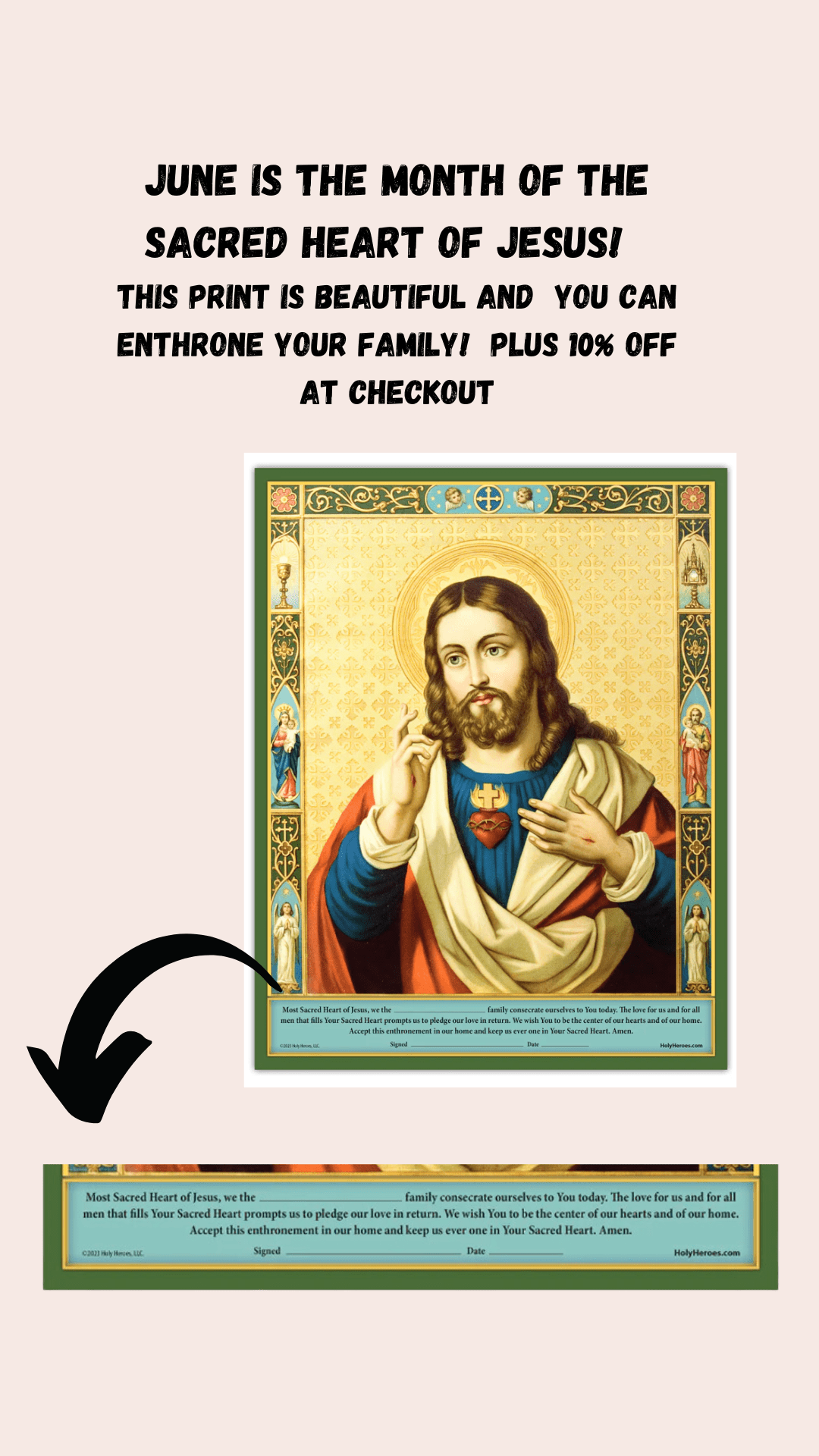 The Sacred Heart of Jesus Enthornment print is found here. 
Prayer to the Sacred Heart of Jesus
O most holy heart of Jesus, fountain of every blessing, I adore you, I love you, and with lively sorrow for my sins I offer you this poor heart of mine. Make me humble, patient, pure and wholly obedient to your will. Grant, Good Jesus, that I may live in you and for you. Protect me in the midst of danger. Comfort me in my afflictions. Give me health of body, assistance in my temporal needs, your blessing on all that I do, and the grace of a holy death. Amen.
Sacred Heart of Jesus image https://www.catholiccompany.com/sacred-heart-w-gold-frame-5×7-i26967/ Sacred Heart of Jesus Plaque https://www.catholiccompany.com/sacred-heart-of-jesus-wall-plaque-i115382/ Sacred Heart of Jesus Holy Water font https://www.catholiccompany.com/sacred-heart-jesus-holy-water-font-i30247/
For more Catholic discounts click here.