Hi, friends! Today, I'd like to share five Catholic books that I will never get rid of. These are books that I absolutely love and highly recommend. If you're new to the faith, these are a great place to start learning! They are a treasure trove of knowledge for all, both cradle Catholics and those coming into the Church.  
1. The Imitation of Christ by Thomas à Kempis — A classic, The Imitation of Christ offers practical ways to live and grow closer to God. This book is quite popular in the Catholic community, so you may have already heard of it. Kempis covers many issues that are still pertinent to us today. (For example, I love the chapter on the vanity of worldly learning.) This is an amazing book, and I highly recommend it to everyone, particularly those who are new to the faith. 
2. Consoling the Heart of Jesus by Michael Gaitley — This is such a phenomenal book! I usually read it every Lent.  It's powerful but very easy to read. After recommending this book, it's not uncommon for people to write me saying how much this book helped them! This is written by the same author of 33 Days to Morning Glory, a book that helps us to understand Mother Mary better. I can not say enough good things about Consoling the Heart of Jesus; I definitely recommend this one!
3. Our Lady of Kibeho by Immaculee Ilibagiza — The author of this book, Immaculee, lived through the genocide in Rwanda and also wrote the book Left to Tell. This may sound strange, but I could not put this book down. Our Lady appears to Catholic school children in Rwanda directly before the genocide and tells them they must pray the rosary as she prepares them for what will happen. We see this again and again with Our Lady, especially in Fatima and Lourdes. she always appears before something big happens and asks for intercession. This book is so fascinating; I will never get rid of it!
4. Divine Mercy in My Soul  by St. Maria Faustina Kowalska — The Diary of St. Faustina is such a unique body of work. What's so interesting about this book is that Jesus appeared to St. Faustina several times, and she was able to write everything down! I love that the words of Jesus are in bold letters. This is another one I try to read every Lent; it's very inspiring to read the words Jesus actually spoke to this beloved saint!
 There are many miracles associated with this book as well. St. Faustina was a very simple woman. Despite not being the most intellectual or well-educated, her original writing contained no errors! It is thought that the Holy Spirit helped write this book. St. John Paul II was an advocate of this book and wanted to see the divine mercy image brought into every home. 
5. Story of a Soul by St. Therese of Lisieux — Story of a Soul is the autobiography of St. Therese. Here, St. Therese describes her childhood, her life, and her struggles. We get to experience everything firsthand. She writes so beautifully, and she really makes holiness seem attainable. This book taught me that you don't have to be some great mystic to be a saint! We can live for God through everyday simple acts.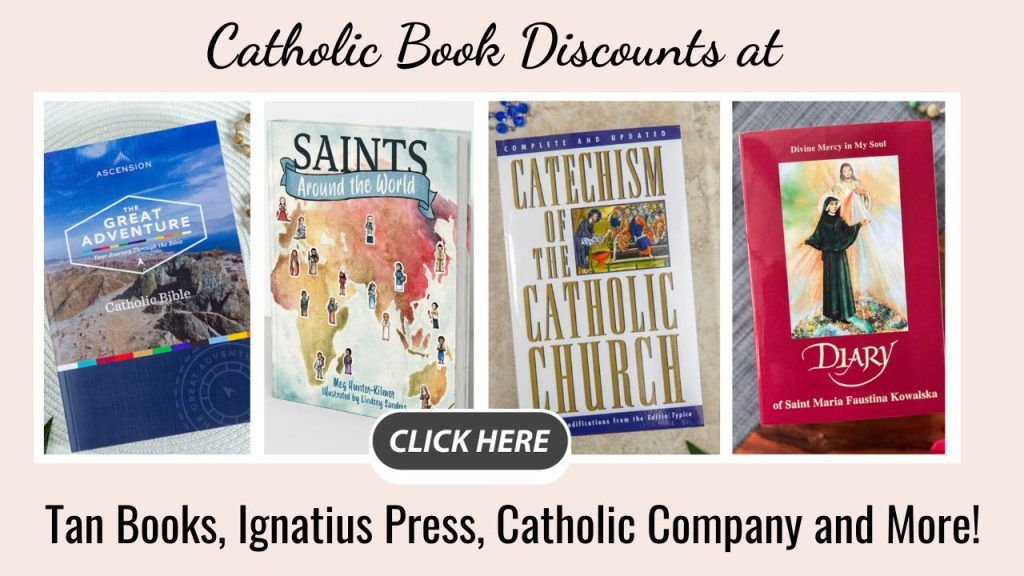 I also highly recommend having a copy of The Catechism of the Catholic Church. There are many different versions, but every Catholic should have at least one. Whether you are new to the church or a seasoned Catholic, everyone can get something out of the Catechism. It truly is the key to our faith. 
Of course, every Christian should have a bible. My favorite bible is the Great Adventure Catholic Bible. Jeff Cavins, an author and biblical scholar, played a large part in the publication of this bible. Jeff created the Bible Timeline Learning System, which is used in this bible. This system shows the "big picture" of salvation history and how everything ties together. Each time period has its own color, which has made understanding the bible so much easier for me. Aside from being color coded, I also love that the words of Jesus are in red. My husband and I have both used this bible for group study, and we loved it.
If you have any books you recommend, please drop a comment below so we can help get each other to Heaven!