I am so glad you are checking out these amazing Christmas Cookies!  My family gets excited every time I make these.  These cookies took me a couple years to perfect, but they are just the right amount of salty and sweet in every bite!
The kids love helping me in the kitchen!  And I equally love having them helping me!  We start making Christmas cookies on St Nicholas' feast day, and we will start eating them on St Lucy's Feast Day.  I hope you enjoy them as much as my family enjoys them!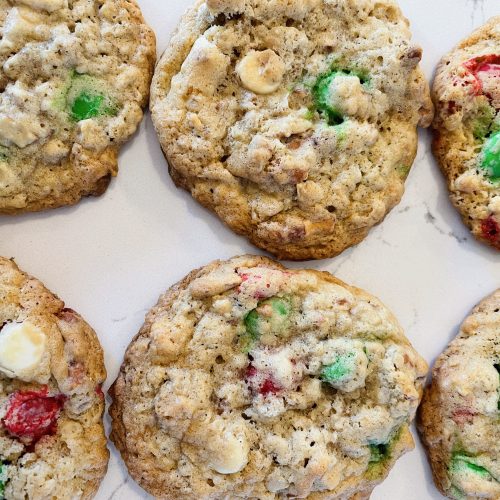 Mama's Christmas Cookies
These cookies took years to perfect but it is our family's favorite Christmas cookies! It is the perfect blend of salty and sweet!
Ingredients
2

cups

all-purpose flour

2

teaspoons

baking powder

2

teaspoons

baking soda

1 1/2

teaspoons

kosher salt

2 sticks

(1 cup)

unsalted butter, at room temperature

1

cup

light brown sugar, packed

1

cup

sugar

2

teaspoons

pure vanilla extract

3

eggs

2

cups

mixed red and green candy coated chocolates (like M&Ms)

2

cups

rolled oats

2

cups

pretzel rods, roughly chopped

1 1/2

cups

white chocolate chips
Instructions
Whisk together flour, baking powder, baking soda, and salt in a bowl until evenly combined.

Combine butter, brown sugar, and granulated sugar in a large bowl and beat with an electric mixer on medium high speed until light and fluffy, about 3 minutes. Beat in vanilla, then add the eggs 1 at a time, beating well after each addition.

Add the flour mixture and beat on low until the dough just comes together.

Add the chocolate candies, oats, pretzels, and white chocolate chips and stir with a large spoon until evenly mixed.

Scoop cookie dough and form 1 inch balls and space cookies evenly apart on a baking sheet. Press the dough balls into thick disks with the palm of your hand.

Bake 10-12 minutes until the cookies are golden brown at the edges and barely brown in the middle. Rotate the baking sheet(s) front to back halfway through.

Cool the cookies on the baking sheets for 1 minute, then transfer them to a wire rack to cool completely.