This is one of my favorite childhood dinners my mom would make my family growing up!  Now that I am a mom, I love this meal because it is hardy, kid friendly, healthy, and so easy to make!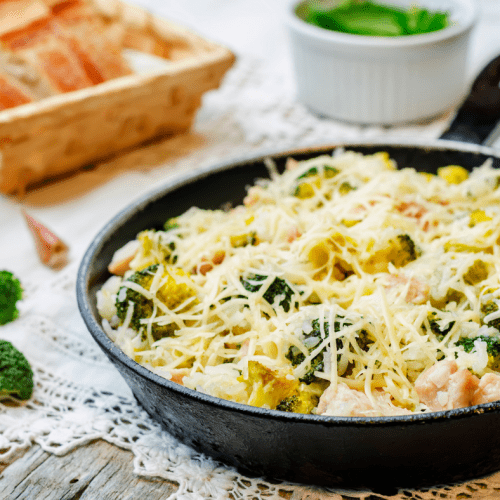 Chicken and Broccoli Casserole
One of my favorite chicken casseroles-simple, yet so delicious!
Ingredients
2

cups

cooked chicken, roughly chopped

(rotisserie chicken works great as well)

12

ounces

frozen broccoli

1

cup

uncooked white rice

1/2

lemon, squeezed

3

cups

chicken broth

1/2

cup

mayonaise

1/2

teaspoon

salt, plus more for later

1/4

teaspoon

pepper

4-6

slices

white bread

2

tablespoons

butter

garlic powder, to taste
Instructions
Preheat oven to 350 degrees.

Place one cup of white rice in the baking dish. Pat it out so that it covers the bottom of the dish.

In a large mixing bowl, combine broth, lemon juice, mayonnaise, salt, and pepper. Whisk everything together. Set aside.

Place chicken on top of the rice, followed by frozen broccoli and then broth mixture.

Place in the oven for one hour.

Meanwhile as the casserole cooks, chop bread into 2 inch pieces.

In a large skillet, warm butter. Once butter has melted, add bread crumbs and combine thoroughly. Turn off the heat.

When casserole has finished cooking, remove the dish from the oven and layer bread crumbs on top. Then add salt and garlic powder to taste.

Broil casserole in the oven for about 2-3 minutes, just long enough for bread crumbs to toast slightly. Make sure to watch it very closely to make sure it doesn't burn!

Your dish is complete! Enjoy!
Notes
This is one of my all time favorite casseroles, and my family loves it too! It's a fairly easy meal, but you wouldn't know it—it is so hearty and delicious!