It is almost First Holy Communion season!  It is such an exciting sacrament to watch our children experience. You may be feeling unsure of what to do next. For most of us, it has been a long time since we received our First Holy Communion!  In this post, I will be discussing the sacrament of First Holy Communion — specifically what we as parents can do to prepare our children and give some ideas on how to make it extra special for them. I will also mention what they should wear, as well as offer some gift and celebration ideas.
Read the Catechism with your child.  I truly believe that there is nothing more important as parents than to teach and bring our children up in the Catholic faith. In an effort to teach Jacob more about the faith, my husband walked through the Baltimore Catechism every night with Jacob.  They started this in the beginning of the school year, and it continued up until he made his sacrament. If you don't know much about the Baltimore Catechism, ask your grandparents. I bet they do! It was extremely common for our grandparents' generation to know the Baltimore Catechism inside and out. I love this book because it's a great first step at learning the Catechism. It explains things really easily, and it's perfect for children. I recommend that everyone start with the Baltimore Catechism before reading the original version!
Go to Confession. Our family goes to Confession together every First Saturday (click here to learn about the First Saturday devotion). Everyone who has received the sacrament (Thomas and Jacob) will receive confession. The First Saturday devotion is not only an incredible devotion, but it is also a great reminder to go to Confession once a month! Pope John Paul the Second went to Confession every single day! The cleaner our souls, the more of God's graces are within us. The same holds true and is important for our children! As a family unit, we should encourage each other to go to Confession regularly. Make a special event out of it! After every First Saturday Confession, we go do something fun afterwards (park, brunch, movie!) 
Write a letter to your child on the day of their First Communion. Pour your heart out to them on paper. Tell them how much you love them, how proud you are, and how excited you are to see them grown in their relationship with Christ. Our school encouraged us to write letters before Thomas' First Communion, and it was such an awesome experience. He loved it. It also gives them something that they can have forever to remember the special day!                  
Some fun gift ideas include a bible, a sacramental (saint statue or icon), rosary beads, or a book. Think of something that will encourage them in their Catholic faith journey!  To get my full First Communion gift guide click here.  
Since white is a symbol of purity, girls wear all things white: white gowns, white shoes, and white veils (if they choose to.)  Boys get equally as fancy and wear suits: button-up white shirt, shirt jacket, nice pants, and (often) a tie. Both boys and girls wear nice shoes! Here are some First Communion outfits to check out.  After Mass is over, don't forget to snap a couple pictures of them with the priest and your family!  Here is my son Jacob's First Communion (he is in the front middle) he was so excited to be able to recieve Jesus!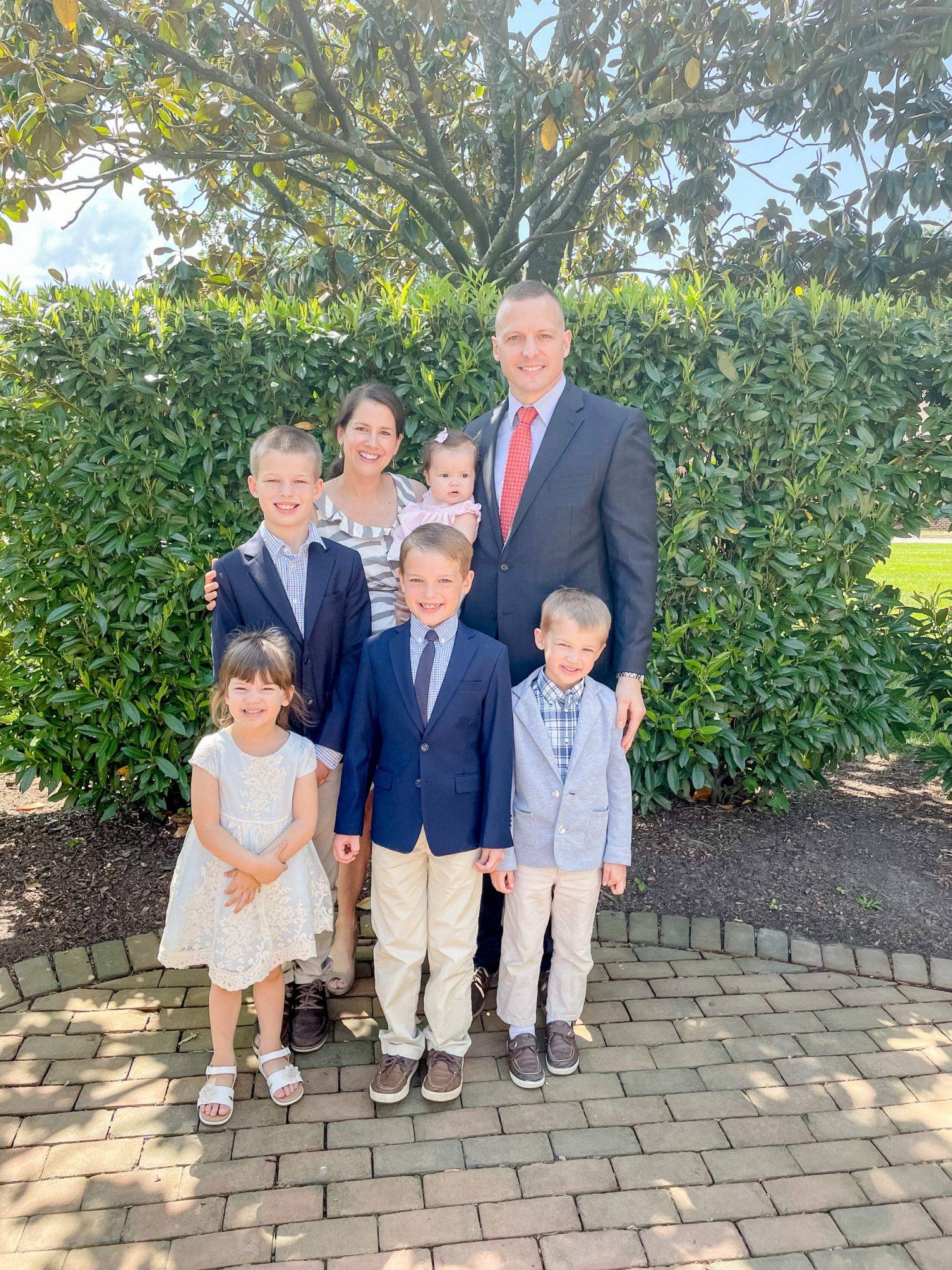 Of course, every family does different things to celebrate the special occasion. For us, we chose to have a little party where we could sit outside and barbeque. Guests brought over little gifts and we bought a cake to share! It was super sweet!