Are you looking for some ways to simplify your school days? If so, I've got you covered!  We all know that back to school, while exciting, can also be a bit of a challenge. There's so much to manage!  Below are some of my tried and true tips for making school days a breeze. These are particularly helpful during transition times, such as leaving and entering the house. Read on for more info!
1. Get clothes ready for the week
Do you find that your littles need help picking out clothes in the morning? Helping your kids find clean clothes or put together matching outfits in the morning can kill a lot of time and create extra stress. Instead, try setting out their clothes for the week in a place where they can easily grab them. Every Saturday, after I fold laundry, I place 6 matching outfits in this hanging closet organizer. The kids can just grab a stack and get dressed quickly. It makes mornings so much easier!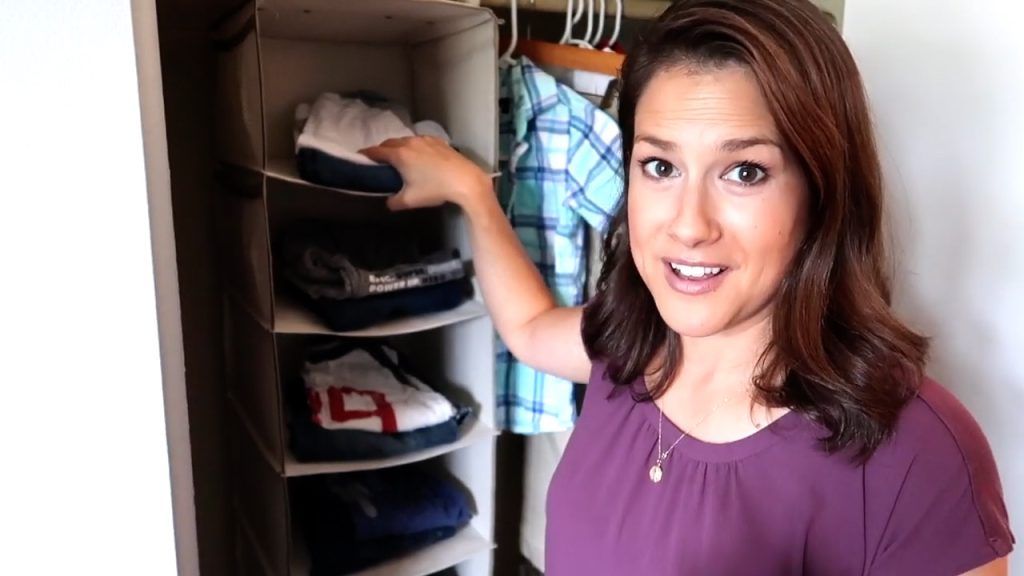 2. Keep socks and shoes by the entry
Keeping socks and shoes by the front door saves us a lot of time! I know most people keep their socks in their bedroom, but I use the drawers of my entry console to store socks. This actually makes getting out the door so much faster! For shoes, we keep a cube organizer in our entry closet. Each child has a row with their name at the top. All of their shoes are kept there.  Don't be afraid to try new things to save time!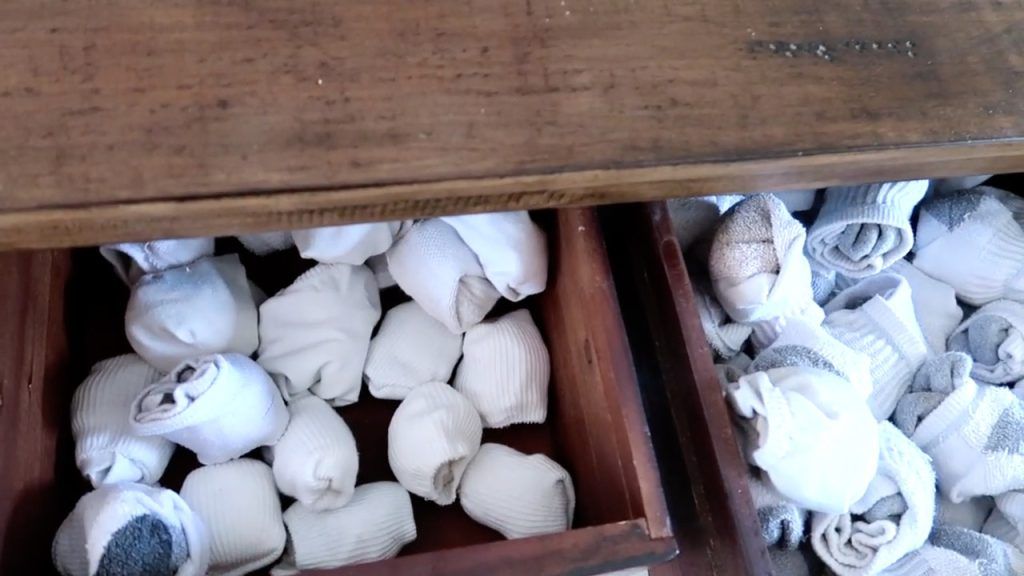 3. Make school lunches in the evening
Waiting until the morning to make school lunches can make mornings a little chaotic. To keep things simple, try prepping school lunches the night before. I use stainless steel bento boxes for making lunches, it makes it so fun and easy!  I usually have a sandwich, fresh fruit or veggies, cheese sticks, and crackers or chips. Anything that can be done the night before will save you time and sanity.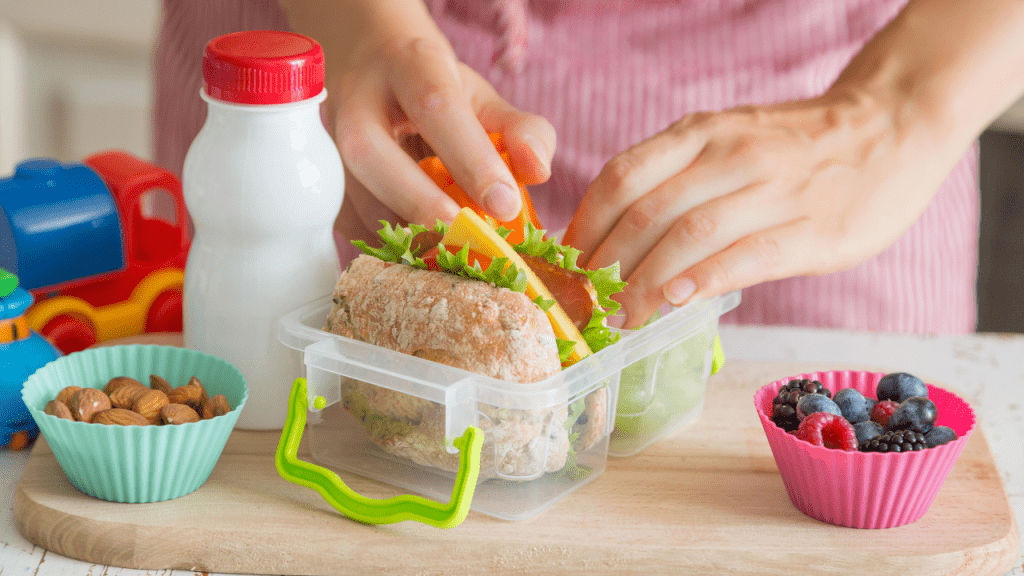 4. Eat a filling breakfast
I like to make sure the kids leave for school with a full stomach, so they are ready to learn and not hungry before lunch. I set out a huge breakfast, buffet style, right in the center of our table. The kids can pick and choose whatever they want. 
Here are some of the things I set out: bagels, cream cheese, whole milk yogurt, granola, peaches, bananas, and hard-boiled eggs. I make granola and hard-boiled eggs every week. I love being able to grab a quick source of protein!
5. Have a plan for after school
I keep a printed list of after school jobs for the kids to look at. Before I made this, I felt like afternoons were so chaotic. Backpacks and shoes were everywhere as soon as we got through the door, and there wasn't a lot of order. Now, the kids know exactly what they need to do when they come home from school! Once their jobs are completed, they can go outside and play.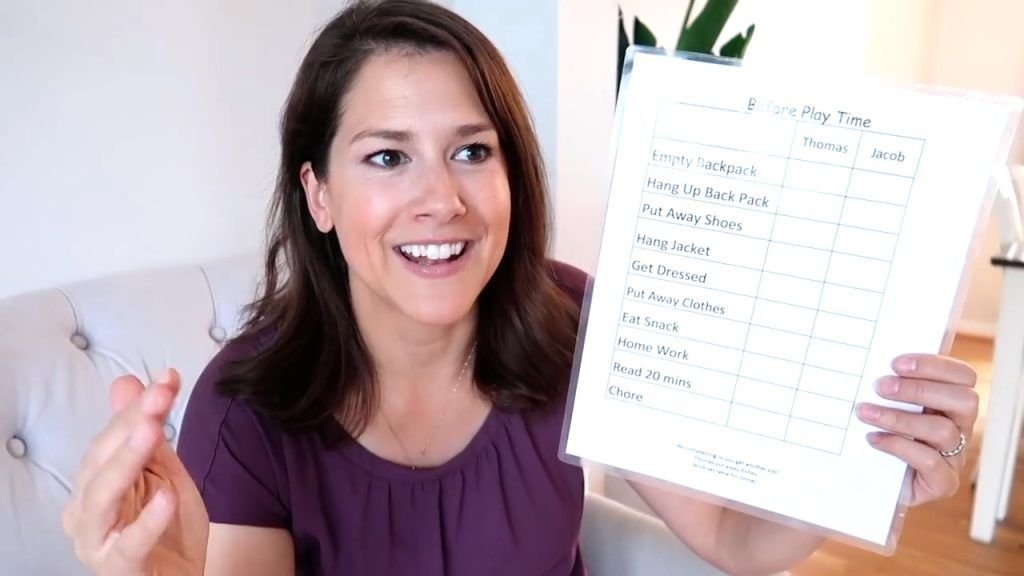 Here is a look at this years checklist, I update it every year.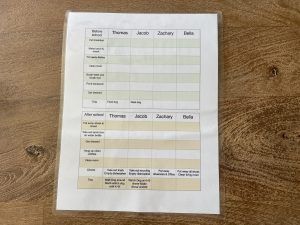 I hope you found some of these tips useful! I find that being prepared allows me to live a more peaceful life. Do you have any tips that make the school year easier? If so, leave them in the comments below! God bless!