I  heard of these Oreo truffle balls from some friends, and it seemed too easy.  I decided to make these one year because my father in law LOVES Oreo cookies. Turns out that these are a crowd pleaser that the whole family loves! We now make these every year as one of our go-to Christmas cookies.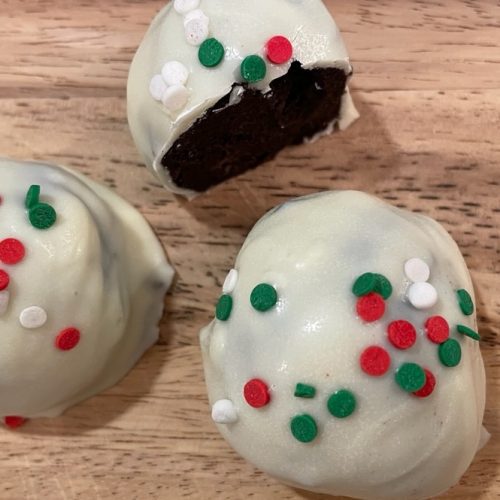 Oreo Truffle Balls
Delicious truffle like cookies that embody "cookies and cream."
Equipment
Food processor

Double Boiler
Ingredients
1

8 oz

cream cheese

1

Package

Oreo cookies

1-2

11 oz

white chocolate chips
Instructions
Place your Oreo cookies in a food processor and grind until there are no large pieces left.

Add the cream cheese to Oreos and mix until combined and a clump of dough forms. (Note: if you have a smaller food processor, you can do this step in two batches by doing half of the Oreos and cream cheese at a time.)

Get out a cookie sheet and wax paper (or a silicone baking mat). Using your hands, form balls of the dough. You can make them however big or small you want, but these can be pretty rich. I usually make my balls about an inch in diameter.

Place the formed dough balls in the freezer for 10 min. This step is really important because you will be putting the dough balls in hot white chocolate and this step helps the dough balls stay together.

Melt your white chocolate over a double boiler. Be careful not to burn it (yes, it's possible even over a double boiler).

Place a dough ball in the white chocolate and use a spoon to cover it completely. Repeat with the rest of the dough balls. I will be honest, my truffles always come out not the prettiest (still working on my technique). But we keep making them because they are so good!

Decorate your Oreo truffles with sprinkles or whatever you like.